I love bacon and I love jam; therefore, bacon jam is stupendous!  I first heard about bacon jam when I visited a food truck in Scranton, PA called "What the Fork!"  You may have heard of them; they were featured on "Live with Kelly and Michael" in 2013.  The business was defunct a few years later, but bacon jam is forever!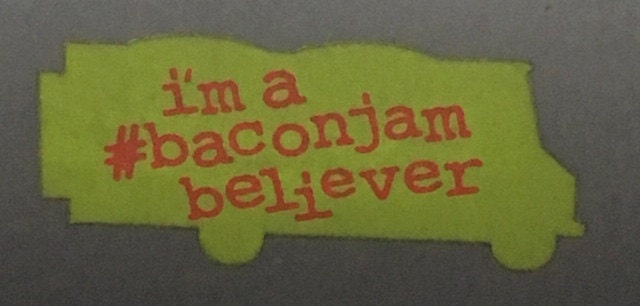 Several months later when I left Scranton, I decided to try making some bacon jam and searched the internet for a recipe.  There are many versions available online if you search.  This is what I do.
Ingredients:
1 1/2# bacon, chopped into small pieces (as small as you can)
2 medium onions, chopped small
Minced garlic- Use as much or as little as you like; I used 4 cloves
1/2 cup of brown sugar
1/4 cup maple syrup
1/2 cup of coffee (leftover from breakfast)
1/2 cup apple cider vinegar
Method:Starting on medium heat, first sauté the bacon until cooked but not crisp.  Remove the bacon with a slotted spoon to a slow cooker/crock pot. Pour off all but 1-2 tablespoons of the bacon fat and then sauté the onions until they are translucent.  Add the onions and remaining ingredients to the slow cooker and set it to high heat  Cook uncovered for 3-4 hours, stirring occasionally.  Using a stick immersion blender, blend the jam until it attains the desired consistency (smooth or chunky). The end result will be like chutney and can be used similarly.  I love it with cream cheese & bagels! Keep this in the refrigerator and use within 7-10 days.  You can freeze portions for future use.
Try adding a splash of bourbon at the end for an added depth of flavor!  Double, triple or more the ingredients and cook in a slow cooker on low for 8+ hours.  You can never make enough!